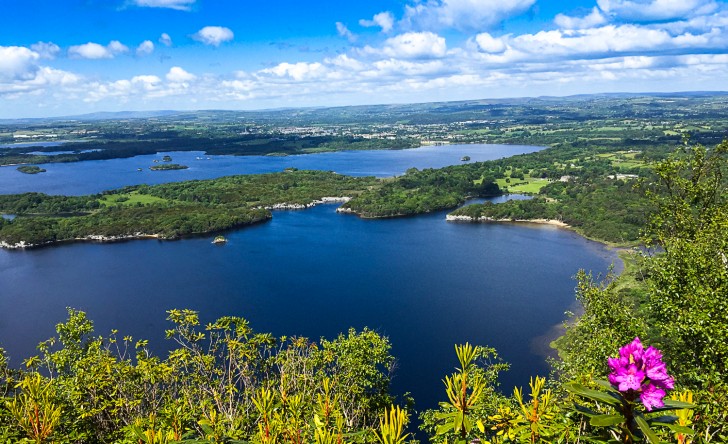 What to do in KILLARNEY, TOP 30 THINGS TO DO
Killarney in the Center of County Kerry and a great base to visit everything worthwhile, here are our Top Things to do in Killarney.
Our new 2017 Video will make you want to stay extra days in Killarney enjoy !
1. The first Top things to do in Killarney is a visit to Muckross Abbey, Muckross House & Gardens, Torc Waterfall and finish with a Beer or Lakeside Cocktail at the Lake Hotel it will be a great start to your visit to Killarney.
2. Drive the Ring of Kerry and Visit Valentia Island.
3.Visit Muckross House and the National Park, Cycle or Walk
4. Cycle the Gap of Dunloe and Boat 13 miles on three Lakes back to Killarney.
5. Play Golf at Killarney, Ballybunnion, Ring of Kerry or Waterville.
6.Visit the ,http://www.celticsteps.ie/ Traditional Music and Dance
7. Drive the Dingle Peninsula, Swim with a wild Dolphin, magnificent scenery !
8. Take a Jaunting Car ride in the National Park.
9. Climb Ireland's Highest Mountain  Carrauntuohil 3,414 feet. (Not Alone or take a Guide!!)
10.  Surf the Atlantic Waves at Brandon Bay or at Inch Reef's .
11. Visit the Lake Hotel for a relaxing drink overlooking Castle, Lakes and Mountains.
12. Drive to Healy Pass and the Beara Peninsula
13. Dive in The Gulf Stream and expedience some of the best Diving in the World !!!!!
14. Fish on the Lakes of Killarney with your own Ghillie or just take a tour on the Lake
15. Do a Pub Crawl in Killarney Town more than 40 pubs in 400 yard radius 🙂
16. Dine out in one of the many fine Restaurants in Killarney
17. Walk some of the Kerry Way walking Trails
18. Visit old Abbey's and Castles.
19. Shopping in Killarney is a must before you leave.
20. Kiss the Blarney Stone
21. Visit Crag Caves in Castleisland
22. Walk on the most Magnificent Beach in the world at Derrynane
23. Boat and walk on Garnish Island
24. Drive to Gleanntassig park on the Dingle Pininsula and fish for Rainbow Trout
25. Visit the Hermits Hut & Well on Torc Mountain.
26. Soak in the Outdoor Hot tub at the Lake Hotel
27. Have for a cool beer / drink after soaking in the outdoor Hot Tub
28. Take a top class show an Ireland's National Event Centre (INEC)
29. See the Muckross Traditional Farms and how country life was in the 1920's
30. Soak in the atmosphere Killarney has to offer tourists to our Magnificent Town
31. View the newly reintroduced White Tailed Sea Eagles in the Killarney National Park
32. Try the New Lakeside Bistro & Vegetarian Menu overlooking the 12th Century Castle and the Lakes of Killarney
33. Boat trip to the Skellig Rock, 5 th. Century Monastic settlement 700 feet up just amazing Visit the ,http://www.celticsteps.ie/ Traditional Music and Dance