South Pole Inn / Tom Crean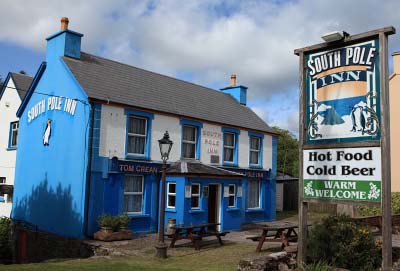 Great attraction in Annascaul, Its a Pub serving drink & food but most importantly its a Museum to Tom Crean, Polar Explorer and unsung Hero of Ireland.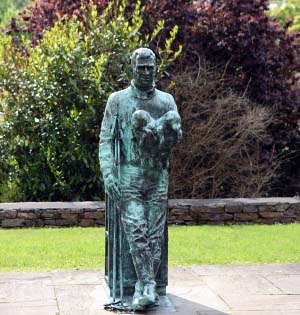 Statue of Tom Crean Annascaul County Kerry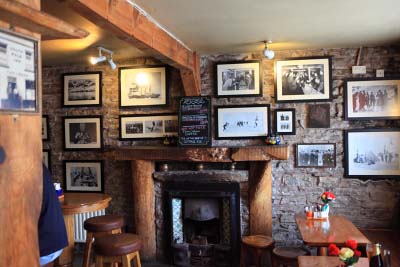 A true Irish Welcome awaits you here, have a Guinness and walk the room, see a magnificent collection of memorabilia on Tom Crean's exploits in the South Pole.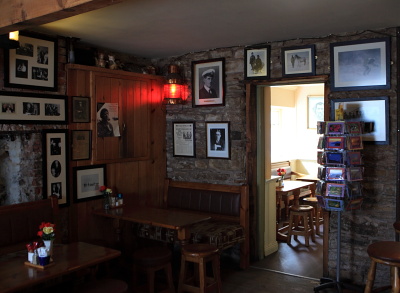 Its a unique experience to visit the "South Pole Inn" to make new friends or just enjoy a relaxing drink.
Derry & Rosie Healy sings about Tom Crean
http://www.youtube.com/watch?v=zSmv5V57kL8
Surf Rentals at Inch Beach at Sammy's Stores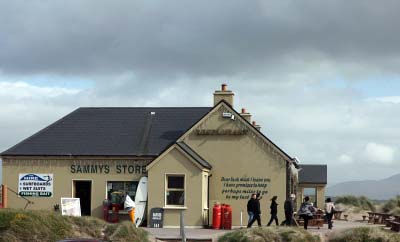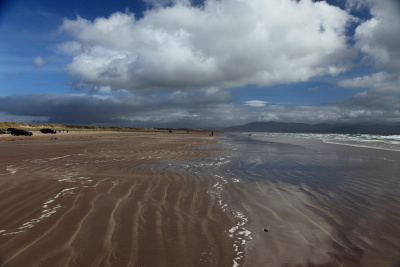 Take a walk on Inch beach (cars get stuck on Inch Beach !)
Annascaul Walks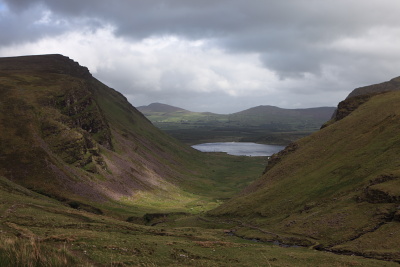 Lake Annascaul, there are great walks and mountain trails here.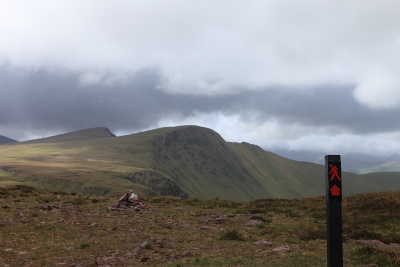 Looking towards Beenoskee & Stradbally Mountains
~~~~~~~~~~~~~~~~~~~~~~~~~~~~~~~
Our Day out from Killarney 15th May 2011
We (3 adults & 5 kids) left Killarney before 12pm and headed to Inch Beach and then on to Annascaul. Our intention was to get in a good walk and follow two legends of Irish History. One was the mythical Legend of CuChulainn who roamed these Hills, Valleys and Mountains and he other was Tom Crean the famous Polar explorer.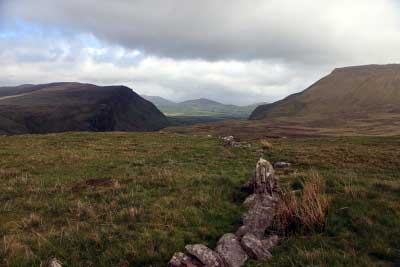 Rock alignments near Lough Annascaul, could these lead back to CuChulainn time in Kerry ?
First we went to Lough Annascaul and followed the path way all the way up to the bridges on the curved pathway to the top of the Mountain in front of you. There are many waterfalls, lone White Thorn trees in this unusual landscapes, overall it very scenic. At the summit we can see a pathway that leads to towards Inch Beach and another which looks like it leads to Castlegregory. You can see salt water at Brandon Bay and Glentassig park isn't too far away either. The pathway is quiet wet in some areas so a good pair of waterproof ankel booths are recomended. We decided to return because some of our kids had enough walking done along with some others.
We went now to see the South Pole Inn, the Sun was shining and it looked great, there is a nice scenic area beside the Inn, its the Annascaul River. We went inside, the first thing that hits you is the ambiance, its great and the staff are so friendly and efficent. We had a drink while looking around this Museum to Tom Crean the Polar Explorer. Two of our 10 year olds had read the book titled:
"Tom Crean - Ice Man: The Adventures of an Irish Antarctic Hero"

The 10 year old boys were very excited and it was great to see they were able to tell us the stories linked to the pictures on the walls.