The Gap of Dunloe Killarney

An Adventure for all the family
Tours to the Gap of Dunloe can be booked daily and the pick-up time is between 10am - 10.30am from your Accommodation.
Return times are around 4pm.
You can also Cycle to Kate Kearney's Cottage and through the Gap of Dunloe to Lord Brandon's Cottage. Here you can put your bike on a Boat and do the 22km Journey through the Upper Lake, Long Range River, "The Meeting of the Waters", the Middle Lake, Bricin Bridge and into the Lower Lake. You will travel along the Mountain shore, pass by Innisfallen Island and finish up at Ross Castle.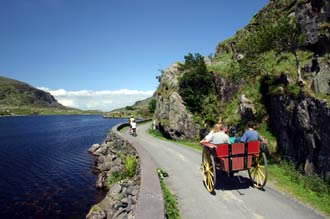 Walk / Cycle of take a Pony & Trap through the Gap of Dunloe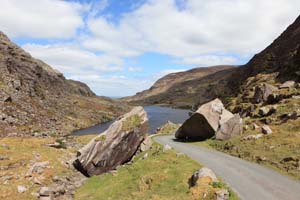 Turnpike Rock at the Gap of Dunloe Killarney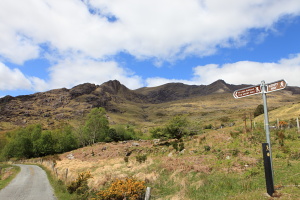 Heading through the Gap of Dunloe you will end up in The Black Valley Killarney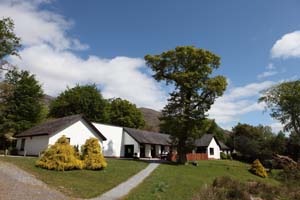 Lord Brandon's Cottage Killarney, here you take the Gap Boats back to the Lake Hotel (if booked) or Ross Castle
Highlights / Landmarks on the Gap of Dunloe Tour in Killarney
+ Kate Kearney's Cottage
+ Turnpike Rock
+ Black Lake
+ The Head of the Gap
+ Lord Brandon's Cottage
+ The Upper Lake
+ Long Range River
+ Eagles Nest
+ Meeting of the Waters
+ Old Wier Bridge
+ Dinis Cottage
+ Middle Lake
+ Bricin Bridge
+ Lower Lake
+ Innisfallen Island
+ Ross Castle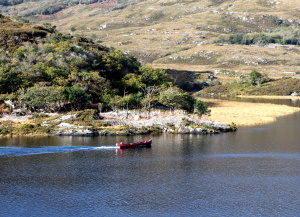 Gap Boats traveling the Long Range River & the Eagles Nest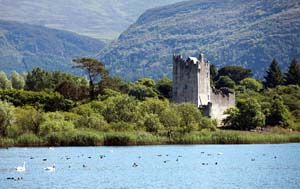 The Gap of Dunloe Tour ends at Ross Castle Killarney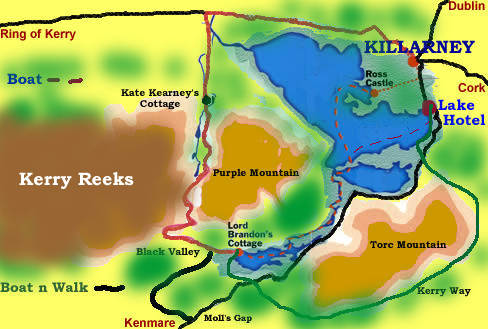 Map of the Gap of Dunloe and the Killarney Lakes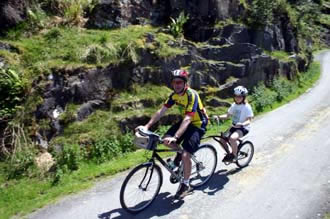 Great to Cycle the Gap, be forewarned there are some hills to Navigate