A little bit of Killarney & Kerry History
Vacation Killarney web sites sole purpose is to promote Tourism and enhance the interest for visitors to Killarney and the Lake Hotel.
This web site was built and maintained by Niall Huggard, the General Manager of the Lake Hotel in Killarney. Niall is a keen Surfer, climbs Mountains, Cycles, Plays Golf , is a qualified Dive Master and loves anything outdoors, played Rugby for over 20 years and understands Team Work. The nature of the Job takes up much spare time but he is still very passionate about it.
Having taken part in many Activities in Kerry I find very useful when it come to giving Visitors good Advice and understanding their needs.
I recently got involved with" All of Kerry Tourism" a Grass Roots approach to Tourism creating Kerry as a Destination. It goes under the banner of "Go Kerry"
The purpose of Go Kerry is to Promote Kerry's Beautiful Scenery, Heritage and its warm People.
---
Niall's family have huge family connections the Tourism in Ireland, in 2012 the Huggard Family will have been running hotels for 100 years in Kerry.
Niall's Grandmother Mary (Doyle) who was from Augrim County Wicklow met Martin Huggard, farmer / fisherman in Waterville. Mary was the Manageress of the Southern Lake Hotel and hotels were certainly her interest.
Many years later they purchased and owned Ashford Castle, Ballinahinch Castle, The Lake Hotel in Killarney, Caragh Lake Hotel, Royal in Valentia, The Butler Arms & Bay View in Waterville. It was said she never built a hotel but only bought by water. It was Irelands first Family owned Hotel Chain.
Only two hotels remain in the Huggard name today, the Lake in Killarney and the Butler Arms in Waterville, however there are 4 Generations in the Hotel & Tourism Industry.
If you are in Killarney and staying in the Lake Hotel you will find Niall on the floor talking to his Guests, he will be able to advise you on your Travels and all what is good in Killarney, Kerry & beyond.

History of Killarney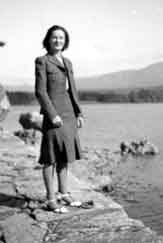 Hilda Huggard owner and Manager of the Lake Hotel, Hilda moved to Killarney from Waterville in 1940.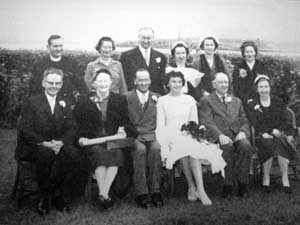 Billy and Mary on there Wedding Day, Billy was from Waterville & Mary from Valentia Island.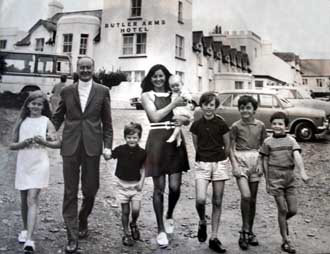 Billy Huggard Owner of the Butler Arms Hotel (Niall 3 from left) missing from the photo is Steven Huggard.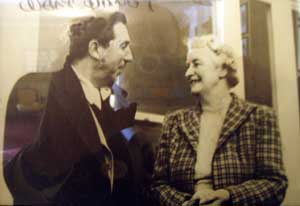 Mary (Doyle) Huggard with Walt Disney, it is said he wanted to meet here for advice before he expanded his Hotel Empire. Mary went on to be one of the founders of Bord Failte where her son Noel was a Director for many years.